Product Review: Ann Taylor LOFT Maternity Wear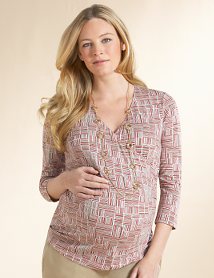 Product: Ann Taylor LOFT Maternity Clothing
Where To Buy: www.anntaylorloft.com
Discount: Use coupon code
20LOFTMOM
to receive a 20% Discount on the maternity line plus free shipping
We asked an expecting Mom to try-out the Ann Taylor LOFT Maternity wear and let us know what she thought. The outfit consisted of a faux-wrap top with a V-neck line, ¾ sleeves, in a neutral brown and tan geometric pattern (retailing at $49) and a pair of classic khaki trousers (retailing at $54).
Our product tester commented on the blouse stating the fit was comfortable; the material was soft to the touch and stretchable; yet the look was still very flattering. The modern geometric design was a refreshing change from traditional maternity wear. The style was casual but flexible enough to wear to the workplace.
The cotton pants with the jersey stretchable front panel made for a very comfortable fit – something that's not easily accomplished when you are 7 months pregnant. "It was refreshing not to be left with those maternity pant lines around the waist at the end of the day." The khaki pants with a faux zipper in front and flared legs added to the classic look and style. These pants could easily be mixed and matched with other tops for a variety of looks.
While style and comfort are important, we wanted to know how well the clothes would hold up over time. We put the maternity clothing through several trials and washings. Although the material is was a soft cotton, there was minimal shrinking and no color fading or wear on the material.

We'd highly recommend the Ann Taylor LOFT Maternity clothing line to anyone looking for comfort and style at an affordable price.


SUGGEST A PRODUCT/ADD REVIEW
To suggest a new product or leave your comments about a product listed, please send your comments to productreviews@parentingclub.com.