Veggie Tales
Lessons from the Sock Drawer – Stock up on Summer Fun Giveaway
When Edmund's pet hamster disappears after he accidentally leaves the top off its cage, he writes to Bob & Larry asking for advice. While Bob feels like there's no lesson to teach Edmund - after all, it was an accident - Larry feels quite the opposite! He has just the right stories with just the right lessons tucked away in The Veggie Vault!
For more information please visit:
http://bigidea.com/products/shows/shows_content.aspx?pid=642

VEGGIETALES®, character names, likenesses and other indicia are trademarks of and copyrighted by Big Idea, Inc.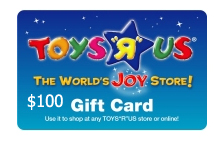 PRIZES
One (1) Grand Prize Winner will receive:
A $100 Toys R Us Gift Card "Stock up on Summer Fun!"
Five (5) Runner-Ups will receive:
A copy of Veggie Tales: Lessons From The Sock Drawer on DVD
Limited to one (1) entry per person, per household, per day . See official rules.

I am sorry, this sweepstakes has now closed. Please check back often for future Parenting Club contests and sweepstakes!

FREE COLORING PAGES: