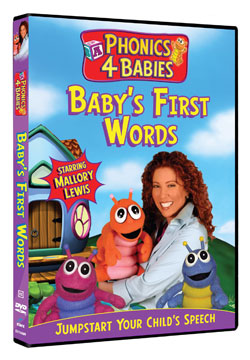 ENTER TO WIN
Phonics 4 Babies "Baby's First Words" DVD GIVEAWAY
Join Mallory Lewis as she introduces your child to the first 300 key words and phrases which will be a springboard for all speech. Your child will have fun with Giggles and the rest of the Tummy Tots in a magical world full of playful puppets, sing-along songs and phonics fun as they learn new words including "Hello", "Goodbye", "Please" and "Thank You".
Developed in Association with prominent clinical advisors from UCLA, speech pathologists and child educators, "Phonics 4 Babies" is designed specifically to engage babies and toddlers in early speech skills. It's unique blend of music and entertainment will introduce your child to vowel and consonant formation, letter and shape identification, counting games, basic manners and more that will unlock their imagination like never before.
For More Info Visit – www.phonics4babies.com
Free Coloring Pages
Enter every day for a chance to win!
PRIZES
Ten (10) Winners Recieve:
Copy of Phonics 4 Babies "Baby's First Words"
Limited to one (1) entry per person, per household, per day . See official rules.

You must be a Parenting Club Member to enter this contest.
If you are not yet a member please register here. Membership is completely free!

Please Note: If you already signed up for a Parenting Club account and can not login or signup for the contest, please make sure you have validated your account by clicking on the validation link in your welcome email. If you did not receive the welcome email, click here to resend. Also make sure cookies are enabled in your browser.