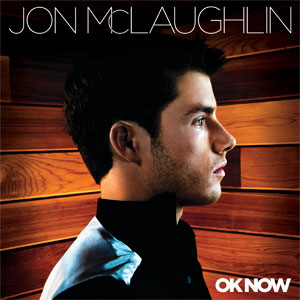 "It's like who am I and why am I here?" "Beating My Heart"
A great deal has happened to Jon McLaughlin between the release of his debut Island Records album INDIANA last year, and his new, sophomore effort, OK NOW.
When we last saw him, the 25-year-old singer/songwriter was giving a show-stopping performance of the Oscar-nominated "So Close," the song he sang in the hit Disney movie Enchanted, on the worldwide telecast of the 80th Annual Academy Awards ceremony.
The appearance re-ignited INDIANA, spurring a 1,514% overnight sales increase at Amazon, sending it to the #1 spot on its Movers & Shakers chart, and creating solid momentum for his latest release. The single from INDIANA, "Beautiful Disaster" attracted over 420,000 digital fans when featured as Download of The Week.
And after getting major touring slots with Sara Bareilles, Paolo Nutini and Kelly Clarkson, along with dates with Colbie Caillat, Duffy and One Republic under his belt, Jon McLaughlin hit his stride on the road.
Flushed with that success, McLaughlin entered an L.A. recording studio last year intent on undergoing both a musical and stylistic transformation. The heartland piano player expanded his palette by working with new producer John Fields (Rooney, Jonas Brothers, Lifehouse, Switchfoot), co-writing with the likes of Jason Reeves (Colbie Callait's "Bubbly") as well as writer/producers Tricky and The-Dream (Rihanna's "Umbrella"), Troy Verges (Kenny Chesney's "You Save Me") and Brett James (Carrie Underwood's "Jesus, Take The Wheel").
McLaughlin admits the experience of appearing in Enchanted and performing on the Oscar telecast was a career-defining moment.
"The whole thing has taken on a life of its own," he says. "I wasn't even supposed to be in the movie. I love Disney ballads, but I didn't necessarily connect it to what I do as an artist. But that image of an old-school crooner inspired me. I was able to see myself as something different, which helped me open up to try new things on this album. I wasn't afraid to try on some new looks, either."
PRIZES
Five (5) winners will receive a copy of the CD entitled, "OK Now"
Limited to one (1) entry per person, per household, per day . See official rules.

I am sorry, this sweepstakes has now closed. Please check back often for future Parenting Club contests and sweepstakes!