Chat & Win Giveaway
The Chat & Win Giveaway ended November 15, 2005
Winner: mysweetpeaWil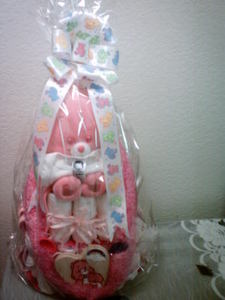 This month's giveaway is a

Custom made in winner's choice of theme and color.
The 3-Layer Diaper Cake includes 60 Size one diaper, over 25 baby acessories, plus a yarmn lei and custom made crocheted booties.

* Can be made with cloth diapers as well, and made to accomendate breastfed babies*
Comes Wrapped in cellophane with bow.

How To Win
The Chat & Win Giveaway is open to all Parenting Club members. If you have not done so already, join Parenting Club. Joining Parenting Club is free. When you join, you must give a valid and working e-mail address. Once you've joined, you can participate in the forums and start earning entries immediately.

Earning entries into the giveaway is easy... all you have to do is chat with other parents!
Beginning at 9:00 a.m. Eastern Time ("ET") on October 15, 2005 until 5:00 p.m. ET on November 15, 2005, every quality post made on the Parenting Club Forums earns you an entry into the giveaway. Please note the word "quality." By this, the post has to be applicable to the category it is posted in. It should also consist of a minimum of two sentences, and it must be useful information, a thoughtful discussion or question. Parenting Club representatives hold the right to determine if a post is considered "quality" and eligible for entry. Any posts made before or after the contest dates won't count for this contest.

At the end of the sweepstakes period, a winner will be selected in a random drawing from among all eligible entries. The winner will be notified via email. The prize will be provided directly from the sponsor. The winner will be responsible for providing the sponsor with a valid mailing address. If the winner does not acknowlege the email and accept the prize by November 21, another random drawing will be held to select a new winner. The winner's username will be posted on the website no later than 48 hours of acceptance of prize.
Advertisers on Parenting Club are not eligible to participate in the contest.
The rules of this contest, along with its prizes, are subject to change without notice.

The Fine Print
Parenting Club, and all of their respective representatives and agents, and any and all Internet servers and access provider(s) are not responsible for: any incorrect or inaccurate entry information; human error; technical malfunctions; failures, omission, interruption, deletion, or defect of any telephone network, computer online system, computer equipment, server providers, or software, including any injury or damage to entrant's or any other person's computer relating to or resulting from participation in this sweepstakes; inability to access the Parenting Club Web site; theft, tampering, destruction, or unauthorized access to, or alteration of entries; transactions that are processed late or incorrectly or are incomplete or lost due to computer or electronic malfunction or traffic congestion on the Internet, or any combination thereof.