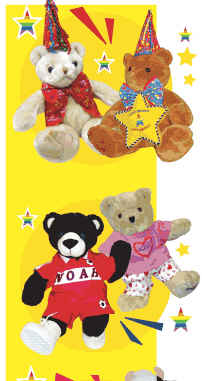 Noah's Ark Animal Workshop Gift To Goah
Online Giveaway
Whether you are 1 or 101, creating a cute and cuddly animal of your very own is sure to bring laughter, love, and lots of great times to your next event. The best part of all is that you get to take home your new "cuddly animal" to love and cherish forever!

IT'S AN ANIMAL STORE THAT COMES TO YOU!!
Traveling Stuff N Fluff Workshop!! Book a workshop for your next birthday party, "in-house" field trip (at daycares, preschools, and schools), girl scout/boy scout meetings, church groups/festivals/youth groups, summer camp, assistant living centers, nursing homes, festivals, fairs, corporate meeting, (to occupy children during adult only meetings), wedding receptions, corporate holiday parties, fundraisers…if you can think of the event, I can be there with everything you need to conduct a workshop that's guaranteed to be exciting, entertaining, and memorable! Our high quality animal kits require NO SEWING and are fun for kids of all ages! For more details, visit www.noahsarkworkshop.com/teresadoerr3713.

Don't miss your chance to win your choice of an animal or doll... enter below!

We're also giving awas customized candy bar wrappers from Sweet Surprises by Teri- These wrappers are great for Announcements, Invitations, Party Favors, great for All Occasions! For more information, visit www.sweetsurprisesbyteri.com/.




Enter every day for a chance to win!
PRIZES
Two (2) Winners receive: A Noah's Ark Animal Workshop Gift To Goah, Choice of animal/doll, choice of sound chip, one outfit (winners choice) and an adorable animal carrier along with stuffing and rainbow star. Value $30-40.
Two (2) Winners receive: 3 dozen customized candybar Wrappers (wrappers only) Value $30
Forty(40) Winners receive: $5 Cuddly Cash Gift Card and Catalog good towards their own Gift to Goah!
Limited to one (1) entry per person, per household, per day . See official rules.

I am sorry, this sweepstakes has now closed. Please check back often for future Parenting Club contests and sweepstakes!