KIDDIE POOL - pictures...from today
mckayleesmom wrote: Mckaylee going down the slide



Both kids going down together...they tried to hold hands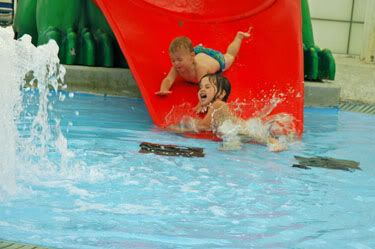 Russell clapping.....you gotta clap after your done.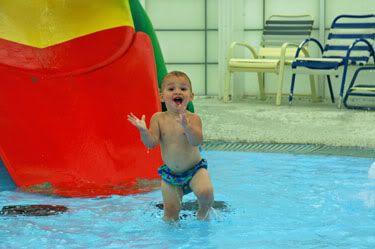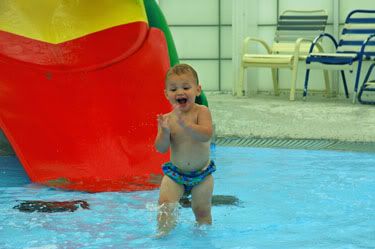 Russell taking a turn


Going down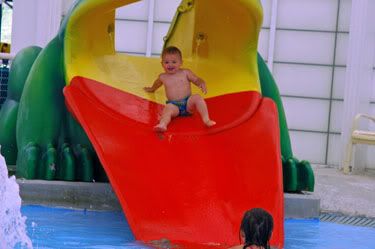 The landing....Mckaylee didn't move out of the way in time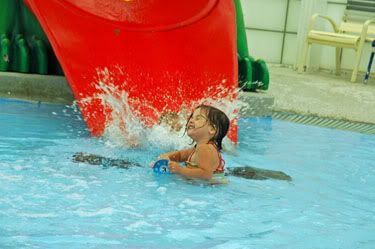 moped replied: OMG that looks like fun - you are way better than me, cause I would be freaking if Jack did that alone - LOL

Too cute!
mckayleesmom replied: more

another trip down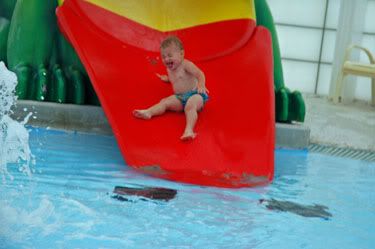 Mckaylee landing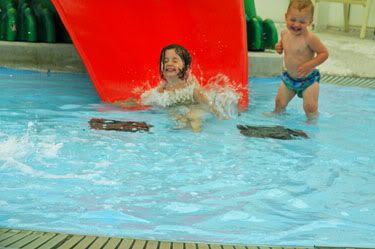 another landing



Russell comming to see what Mommy is up to



Thinks he has to be close to get his picture taken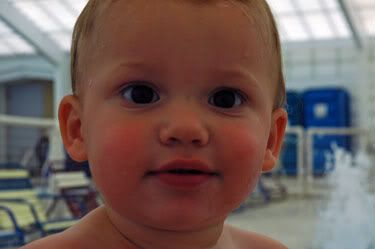 mckayleesmom replied:
Well, the water is only like 1ft deep....so there is no harm. He loves it. Most of the parents ask me how old he is because he is usually the littlest there that is willing to go down and risk dunking.

mckayleesmom replied: Also, the slide part...the red tongue...is made out of soft material, its like what wrestlers use to fight on...or gymnastic mats.
Our Lil' Family replied: Wow Brianne your camera takes AWESOME pics! That first one of McKaylee looks professional!

It looks like they are having SO much fun!!
BAC'sMom replied: I thought for sure when I saw this post that it would have pictures of the obese 4 year old in that 3T bathing suit.

No such luck.

Looks like your babies had a ball.

mckayleesmom replied:
Its actually a professional type camera.....Its a Nikkon something or other....Leithan got it for me for xmas. Before I took that picture of Mckaylee on top of the slide, it took me 20 minutes to change the lense to the one that does close up pictures......Shows how much I know...

mckayleesmom replied:
LOL...no, I try not to get other peoples kids in my pictures. Also...that little girl didn't show up till well after I took these pics...I had already taken like 100 pics by the time they got here.
3xsthefun replied: Looks like so much fun!

AlexsPajamaMama replied: Alex just asked if he could go down the froggy tongue tomorrow!!


Great pics Brianne, you're kids are adorable!
Looks like alot of fun!
CantWait replied: Fun Fun, what a couple of cuties


mom21kid2dogs replied: Those are GREAT pics!! The ones of Russell clapping are adorable!!

Is this pool in your complex? It is too cool!! I love our pool but I'd love to come play in this one!!
My3LilMonkeys replied: That pool looks great! And you are a good photographer!

Brooke wants to know why the froggy is spitting out the boy - didn't he taste good?

mckayleesmom replied:
We live on an Army post.....its the on post pool.
C&K*s Mommie replied: They are simply adorable kids!

Glad they had a blast there, that looked like it would be much fun.

Great pics, btw.
A&A'smommy replied: awwww honey THEY are SOOO cute!!! Russel is such a little man!!

ashtonsmama replied:



What wonderful pics! TFS!


Brias3 replied: What gorgeous kids...they're really growing up. Very fun and cute pics...TFS!
mammag replied: Those pics are amazing! They are soooo cute.

Your kids have such wonderful smiles! You can't help but smile yourself when you see them. They just look so happy...not a care in the world. Love it!!!!
lisar replied: Looks like they had alot of fun.
KingMom replied: Wow Brianne, Russell is getting so big. he and Colin are close in age and I don't think Colin would be brave enough to do that, even with me or my DH holding him. Looks like so much fun for both. I can't wait till I have this baby and can enjoy the summer in August (I hope).

We took Colin to the lake on Memorial Day and it took him so long to get used to the water and the fear that we were leaving by the time he was willing to walk in the shallow area without clutching us or ride in his float.

I plan to try and take him again in the coming weekends when my DH will be off again.

TFS your pics

mckayleesmom replied:
Russ and Mckaylee are totally the opposite. If they see water...they want it....I don't know how many times we have walked out the door to go to the grocery store or to a doctors appointment and Russell runs from me and jumps into the kiddie pool fully clothed.

JP&KJMOM replied: Great pics and they are so darn cute.

TANNER'S MOM replied: Wow Russell is really growing.. McKaylee looks so awesome in the pics. It's great to see them playing!

I love the pics..and you are a great photographer..Maybe a job there for you girl!

Mel
TheOaf66 replied: well someone had fun


luvmykids replied:

Looks like so much fun! We haven't even hit the pool yet, I'm nervous. I wish we had one like that around here!

Great pics too, good job Mom!
MyLuvBugs replied: Too cute!!

They look like they had so much fun.